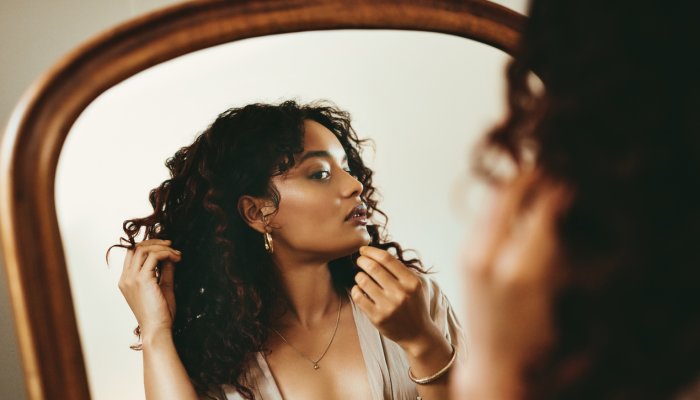 There are a few popular routes to take, here (the first, a tad more practical; the latter, a bit more fun). First up: Simply take some measuring tape across your face at its widest points, then measure the length. "If your face is the same width and length, it's most likely square or round," says O'Connor (then you can differentiate between the two depending on how sharp your angles are). "If it's wider at the forehead, it's most likely a diamond or heart" (check how narrow the hairline is in order to tell). And if your face is longer than it is wide? Depending on your angles—or lack thereof—you likely have an oval or rectangular shape. 
If you're looking for an entertaining way to spend an afternoon, try this other fun hack: "A great way to determine your face shape is to take a photo of yourself with your hair tied back," O'Connor explains. Print it out, and "you can then trace the outline of your face and identify which shape it most closely resembles." Use some colorful pens, hang it up, and call it art—you know, if you need a friendly face-shape reminder before your next haircut. 
Or, Stenson says, you can stand in front of a mirror and use a dry erase marker to draw each shape, one-by-one. (Draw the shapes roughly to the size of your face, similar to the infographic above.) "Try to align your face with each shape. In doing this, you'll be able to identify which shape represents your face structure best," he says.